When buying your first tin whistle, you are probably offered a tiny little tin whistle book that goes with it. Of course, it is handy to get started with the whistle fundamentals, get along with the fingering charts, and try playing a few introductory songs.
However, some of the most prominent players and teachers dedicated a substantial time passing their experience and skills on to new players. So, whether you are a complete beginner looking to learn the basics or an experienced player that aims to improve, our editors handpicked several great tin whistle tutor books that we believe are the best ones you can find on the market today.
Why use a tutor book to learn the tin whistle?
Let's be straightforward, the vast majority of experienced Irish traditional musicians advocate the "learning by ear" method. It means that you likely make the most considerable progress by constantly listening to other players and their music. And while this is arguably true, nowadays, in the internet era and many learning resources available online through YouTube videos, websites, forums and community groups, you can easily find yourself roaming through an enormous amount of information. Especially as a beginner, you may find out that some information is even contradictory.
And that's why these systematic tuition books will always have their place. Acknowledged authors write them to ensure you are on the right track and can always get back to the drawing board if something is not clear enough along the road. It is easier to learn the correct way from the start than to get rid of poorly developed habits later.
1. Irish Tin Whistle Tutorial Books by Mary Bergin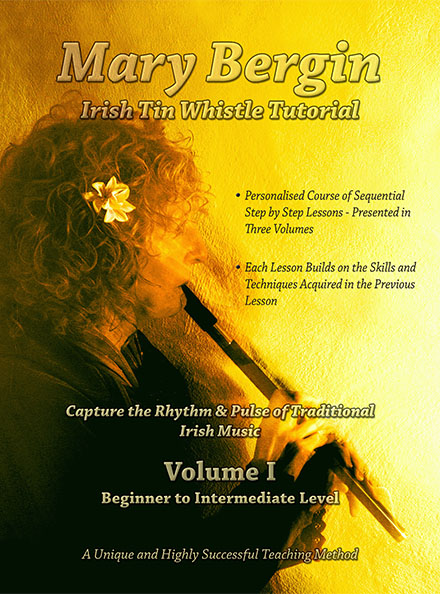 There's probably no better excitement than learning the tin whistle from Mary Bergin herself, one of the most prominent whistle players in history. Her Irish tin whistle tutorial comes in 2 volumes and is a product of decades of personal performing and teaching. Volume 1 is a "Beginner to Intermediate" level book. It's predominantly made for complete beginners and teaches the fundamentals of tin whistle and the very basics of ornamentation, step by step.
Volume 2 gradually progresses (Intermediate to Advanced) and introduces various tune types of Irish traditional music, following additional techniques. It's best suited for those who already have some experience in playing the whistle.
The most encouraging fact about these books is that Mary offers a thorough knowledge of Irish traditional music and highlights the crucial factors for playing trad music the "correct" way. Also, besides staff notation, she introduces her own method of notation and symbols that people who don't read sheet music can easily relate to. Both volumes include CDs to listen to all of the tunes and exercises that Mary recorded to demonstrate exactly what she teaches in every lesson.
At the moment of writing this article, we're still waiting for Volume 3 to be released. It will follow on Volume 2 with more refined techniques suited for advanced and professional players.
Our editor's notes:
This is an excellent book if you are primarily about to learn Irish traditional music concepts, regardless of your current playing level.
The book can be highly beneficial for tin whistle beginners as well as intermediate players and those with a classical music background.
This is not a tin whistle "reference" book. If you are looking for a thorough technical explanation of playing various tin whistle ornaments, you'll probably find better information in other books.
2. The Bill Ochs Tin Whistle Handbook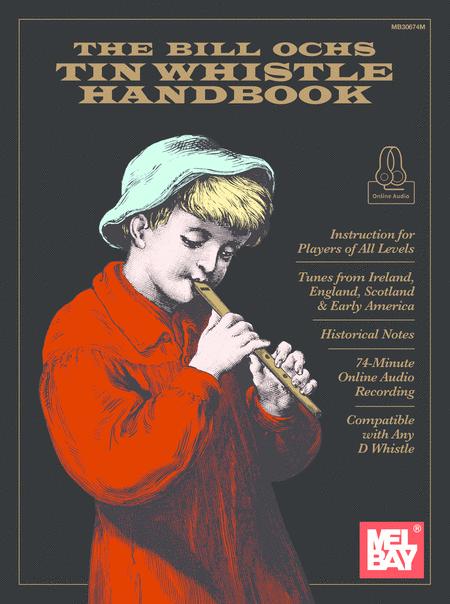 In 1988, Bill Ochs published a book called The Clarke Tin Whistle, one of the most popular tin whistle books to date. And has sold hundreds of thousands of copies! Although some of the content is rewritten and updated, this is basically a re-branded version of the same book. It explains the basics of the whistle step by step while later instructing the most common ornamentation, followed by more than 70 tunes to practice what's taught in the lessons.
One thing that separates this book from many others is that it teaches reading sheet music. Nothing too intimidating for a beginner, but to the extent that you need to understand common Irish tune types' rhythm and musical structure. As a bonus, downloadable audio files are provided to follow each lesson and all Bill's tunes in the book.
Our editor's notes:
An excellent book for beginners but almost completely redundant for experienced players.
Great for learning the basics of sheet music required to understand the notation of Irish trad tunes.
3. Essential Guide to Irish Flute and Tin Whistle by Grey Larsen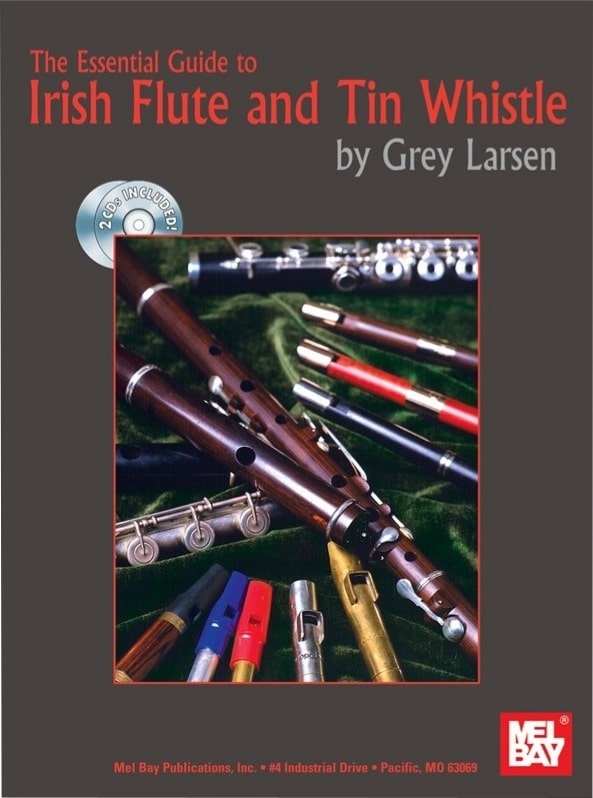 Don't let the book's title fool you. This is probably the most comprehensive book about the tin whistle on the market, although it indeed features a few aspects of the Irish flute too. Grey is a highly experienced player who doesn't hesitate to go deeply into details. The book covers a myriad of topics, from the Irish trad music, tin whistle history, learning the basics, plenty of tunes and exercises, all the way to the vast number of ornamentation techniques.
A bonus section also analyses some of the popular recordings by famous players, aiming to explain all of the nuances in tin whistle playing. You can definitely consider this book a tin whistle reference book because everyone can discover something valuable regardless of their level.
Of course, the book also comes with downloadable audio that demonstrates all the tunes and exercises. Some are recorded on a tin whistle, and some on the Irish flute.
Our editor's notes:
Although some beginners might find this book overwhelming with the information, it is a must-have book for any tin whistle player above the newbie level.
The book offers the most extensive explanation for all the tin whistle ornamentation techniques.
Do not confuse the book with another Grey Larsen's book called "The Essential Tin Whistle Toolbox". It is like a "lite" version of this book, missing plenty of details.
4. A Complete Guide to Playing Irish Traditional Music on the Whistle by Stephen Ducke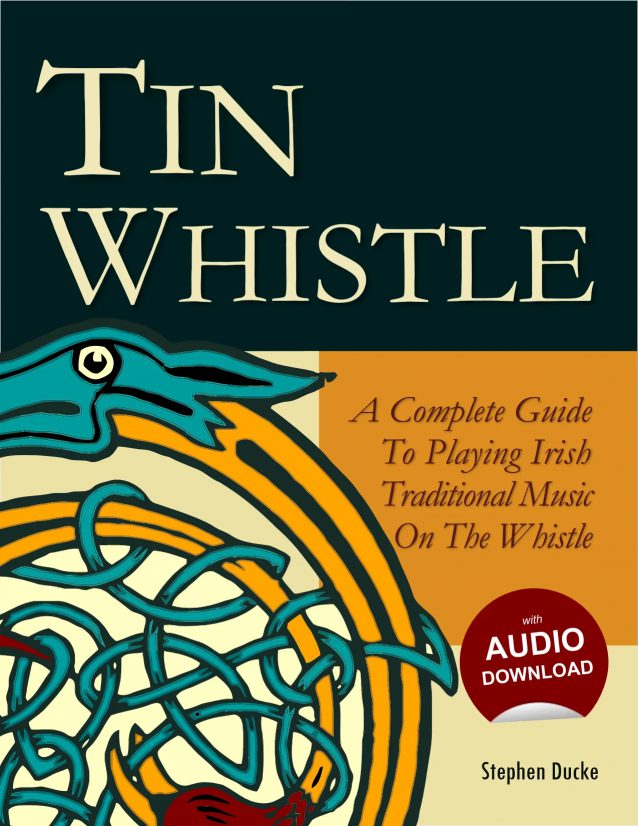 Stephen Ducke has been a talented player and teacher for many years, so this is another exceptional tutor book with many good ratings and among the top-selling Amazon books for tin whistle tutorials so far. Although it is very similar compared to Grey Larsen's book, it doesn't explore the broad topics of Irish music and the tin whistle that much, making it more focused on the tuition itself.
The book is divided into two sections, and it starts by teaching the very basics of the penny whistle (Section 1) then gradually progresses through the mixed techniques and ornamentation (Section 2). It features more than 100 tunes, including easy songs for beginners up to advanced Irish traditional stuff. The good thing about this book is that it also includes tin whistle tablatures besides the staff notation for most tunes. And this makes it a good choice for beginners and those who are unlikely to learn and read sheet music.
Downloadable audio files are supplied to follow each lesson and all tunes in the book.
Our editor's notes:
This is a great book for beginners who can learn the basics and gradually improve their skills with more advanced techniques in Section 2.
A comprehensive guide about tin whistle ornaments and incorporating them into Irish tunes can also benefit experienced players.
5. The Complete Irish Tin Whistle Tutor by L.E. McCullough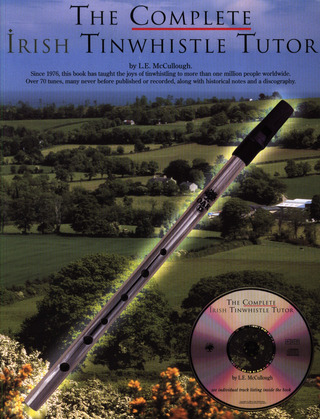 L.E. McCullogh is a highly experienced player and primarily a composer of Irish music, so you can be sure that he effortlessly comprehends the nuances that differentiate an average player from a top-class one. Many professional musicians and prominent trad groups played and recorded his tunes over the past few decades. This is an old book but a true gem. And although it briefly goes through the whistle basics, several aspects make it beneficial to "above the newbie" level.
What makes it different from other books is that it teaches various ornamentations first, then demonstrates how the same tune can sound when different ornaments are used. More than 70 tunes are included as well as a CD that follows them.
Our editor's notes:
There are probably better books for beginners, but it is an exciting resource for anyone with at least a brief tin whistle experience.
A handy explanation of how different ornaments can shape an Irish tune can assist you in building your own playing style.
BONUS: Our Tin Whistle "Technique Improver" Course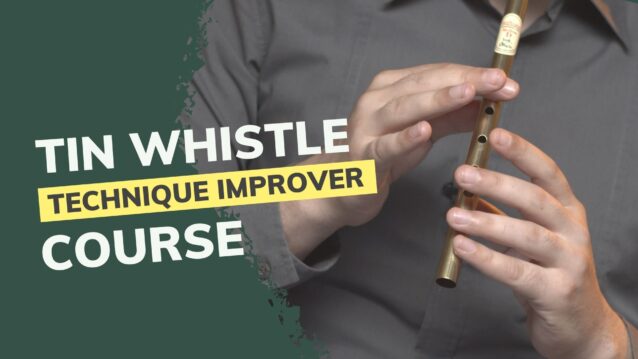 Besides the free online beginner lessons available on the website, we have created a tin whistle course that aims to improve the skills of any player who already has some experience playing the whistle. It is not a tin whistle book, but it comprehends the mastery you can find in multiple tuition books altogether.
We devised the online course as a digital tutor book with demonstration videos that you can access from any device and at any time. As a result, you won't only learn new techniques but will also acquire extensive knowledge of various tune types and a better understanding of Irish traditional music in general.
Bonus materials that you can download to your computer are also provided, such as sheet music and tin whistle tablatures. And for every tune taught in the course, there are backing tracks to play along with and practice.